What are the plans for my life?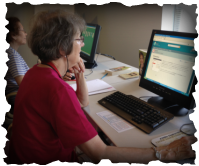 ​Everywhere we go today, we are reminded that technology has become an integral part of our lives. Doctor's offices are asking for email addresses to send us appointment reminders, television newscasters refer us to their websites, Facebook, and Twitter for more information on the news stories. Our workshops are meant to encourage women to explore the many ways that computer skills can open up a whole new world of opportunities.
​
​
​Basic Computer Operations - If you're new to using a computer and hesitate before exploring it's features our Basic Computer Skills Training will provide the competency and confidence that you desire.

Creating Documents - Want to update your resume? Get up to speed with Microsoft Word and learn how to create great looking documents with just a few simple steps.

Creating Spreadsheets - Learn what you can do with spreadsheets. Household budgets, debt analysis, charts, and graphs are just some of the uses available with Microsoft Excel.

Creating & Navigating Databases - Did you know that each time you download an MP3 file you enter a database via the internet? Microsoft Access is used to store data and convert it into information you can use.

Creating Presentation Graphics - For work or school, presentation or website, Microsoft PowerPoint makes you and your project look good.

Internet, Email and Social Media - Learn how you can get connected and stay informed.
---
Career Counseling also available
As your Career Coach our goal is to support you in making informed decisions about your career development and advancement. To offer tools that help with writing résumés, cover letters and creating a LinkedIn profile to meet these goals. Clients can reasonably expect to gain career confidence, insight, encouragement and inspiration.

We are available at the Culpeper Career Resource Center every 3rd Wednesday of the month. Call for an appointment: (540) 727-1056.

Culpeper Career Resource Center's new address:
219 East Davis Steet
Culpeper, VA 22701
---